Android Apps are available for download legally via the Google Play Store, both the free and the paid versions. But if you are looking for a not-so-legal way to get a copy of the APK files, Google has the answer.
Let's say that you looking for a copy of the Google Chrome Android App, you will normally do a search for google chrome android apk download, but the listed websites may not be really useful as they may not be giving you any direct links to download the files. These sites will also most likely have multiple pop-up advertisements. This is not exactly what we are looking for, we want it simple. But how? We will just need to tweak the way we search in Google.
Try searching in Google for: intitle:"index of" apk google chrome. The results may surprise you. You should be able to download the files in a jiffy.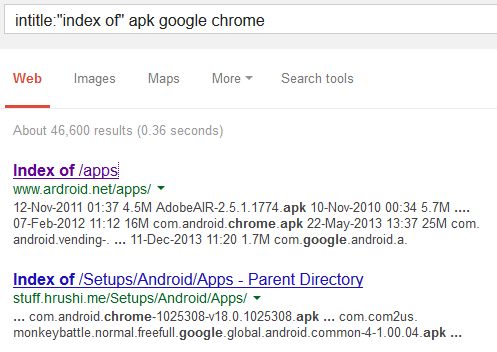 It's generally a bad idea to download pirated apps in this way. App developers spend a considerable amount of time developing the apps and they need money to survive too. And also, files downloaded in this manner could have been infected by a virus or malware, therefore download them at your own risk!